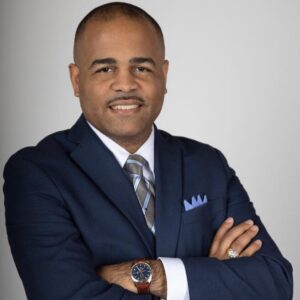 Dr. Travell Travis is a native of Martinsville, Virginia, and a 1996 graduate of Fieldale-Collinsville High School. He received his B.A. in 2000 from the University of Virginia with a double major in History and African American Studies and a minor in Religious Studies. He received his J.D. in 2003 from Howard University School of Law.
Since 2003, Dr. Travis has been employed by the Hampton University James T. George School of Business. Dr. Travis has taught such courses as: Introduction to Entrepreneurship; Creativity, Innovation and Product Development; Small Business Management; Financing New Business Ventures; Legal Issues in Entrepreneurships; Business Communications; and Legal Environment of Business.  From 2004-2017 served as an assistant dean for the school.  During his time at Hampton, Dr. Travis has literally taught thousands aspiring entrepreneurs the keys to launching and growing a successful business.
In 2005, Dr. Travis opened the Law Office of Travell Travis, P.C.; a general practice law firm.  The firm focuses on the needs of pastors, entrepreneurs, creative, and the community.  Dr. Travis is admitted to practice law in Virginia and the District of Columbia.
Dr. Travis is the author of two books: of Don't Eat the Baby: The Characteristics of a Cannibalistic Church (2018) and Where Will the Mantle Fall: A Biblical and Legal Guide to Succession Planning (2020).  He has published scholarly articles in referred journals such as: The Use of Economic-Based Affirmative Action in College Admissions (2016) and The Use of Video Case Training of Entrepreneurship Concepts: The "Daddy Daycare" Case Study (2015).  Dr. Travis is a past recipient of the Hampton University Chancellor and Provost Teaching Innovation Award and the Hampton University Academic Excellence Award
Dr. Travis is married to the former Sherina D. Mason, of Philadelphia, PA.  They reside together in Richmond, Virginia, with their three daughters: Deonna, Janiyah, and Amiyah.